Fine Museum Quality Miniatures since 1996
Shaker Works West Custom Miniature Room Boxes
I am proud to present to the visitor a selection of extraordinary room boxes.
All settings are custom made to the specifications of the client and are not limited to Shaker style but most share a common period in American history. I like to stay in the time period of the 1800's. Subject matter can be anything the client can imagine. I love researching the subject almost as much as building the final product. You can use these photo's to stimulate your imagination and create your own scene to bring back the now forgotten nostalgia of early American life, industry and dreams. I would be delighted to help you create your dream in miniature.
For Room Box Ordering Inquiries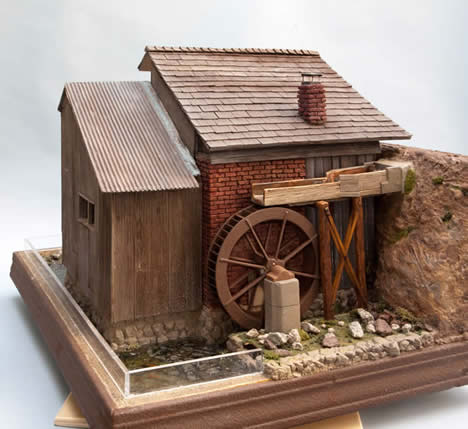 The Olde Mill Chocolate Factory
Just a great fun piece of art featuring a working water wheel and tons of authentic turn-of-the-century
chocolate making machinery and incredible detail throughout including feature lighting.
Custom projects such as these are limited only to one's imagination.
22 x 29 x 20 Full details here
Classic Shaker Room Box
21" x 12" x 12" deep
As shown - $4,600
Small Shaker Room Box
18" x 12" x 12" deep
As shown - $3,600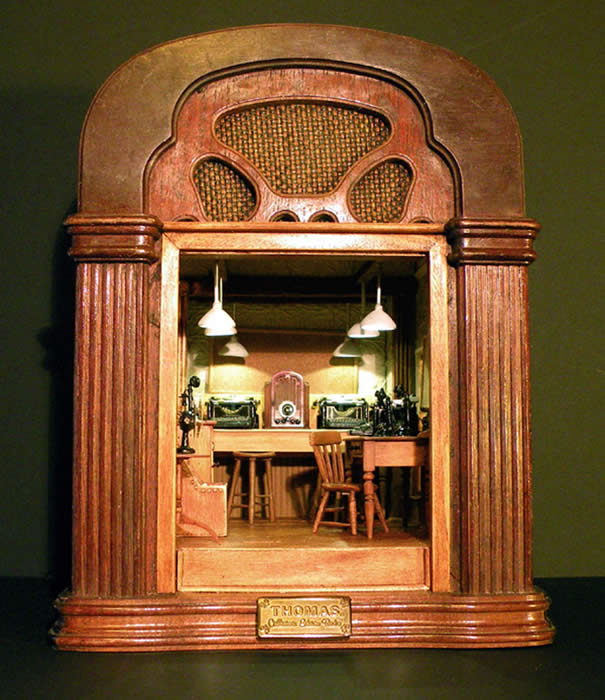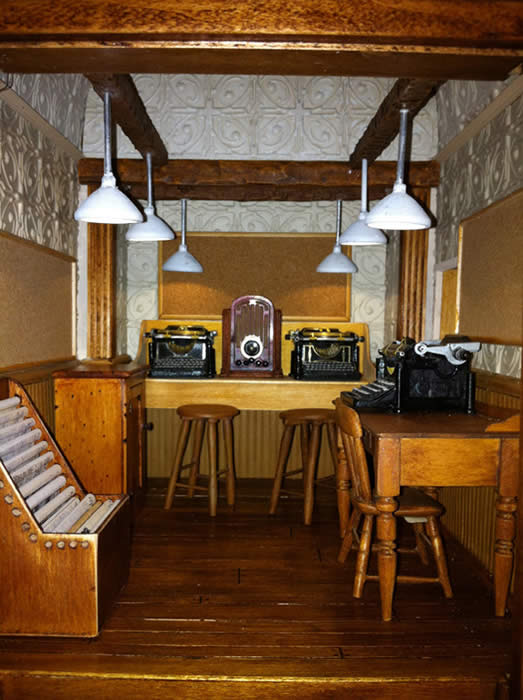 The Newsroom
The client sent me this old tombstone radio with instructions to turn it into a 1940's newsroom. Man, what fun!
Custom projects such as this are what make life worth living-room are other thing too!
Send you
Classic Shaker Workroom Room Box
21" x 10" x 14" deep
As shown - $5,400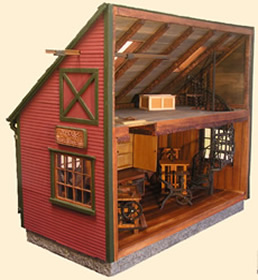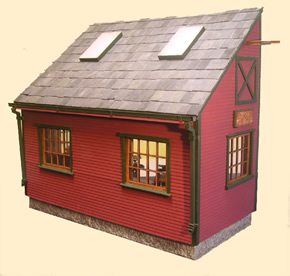 Antique Tool Museum Room Box
circa 1900 New England
Fully Loaded with authentic tools $8,600
- One only -
Custom variations available
"A Bad Job"
Taken from a 1550 Aldine engraving this scenario depicts a disgruntled squire telling the local smith about problems with his helmet.
This is a one of a kind reproduction featuring two separate flickering fires and outside lighting, real slate flooring and perfectly detailed armor.
The exclusive dolls are by by Shirley Whitworth. Comes fully framed with finished exterior. Contact Ken for more photo's or inquiries about
building a 3 dimensional work of your favorite painting.
Click here for more photo details
SOLD
1900 Wood Shop Room Box
21" x 10 x 12" deep
As shown $6,800 (Custom versions available)
School Room Vignette Room Boxes

Take your choice of a fully open 2 wall version or enclosed 3 wall version with plexi roof.

2 Wall

Completely finished without furniture - $550

As shown with furniture $1,545

(6 desks, 3 chairs, teachers desk, globe & stool)

3 Wall

Completely finished without furniture $750

As shown with furniture $1,895

(4 desks, 3 chairs, teachers desk, globe, stove & stool)

Exterior window scenes and shades and maps included in all options
The Colonial Great Room
A wonderful room to show off your collection of fine eclectic or period furniture. This room features warn & polished floors, backlit outdoor country scenes (110 volt house current), beamed ceiling, and a delightful fireplace with flickering fire log set, feature shelf, two storage cabinets, bookshelves and a winding staircase at the right rear. Painted color wall panels can be specified in natural (below) or any color (above). Unit comes completely wired and ready to plug in.
18 " long x 8 1/2" high x 10 1/2 " deep.
Available as above for only $1,250. ORDER HERE
(furniture not included)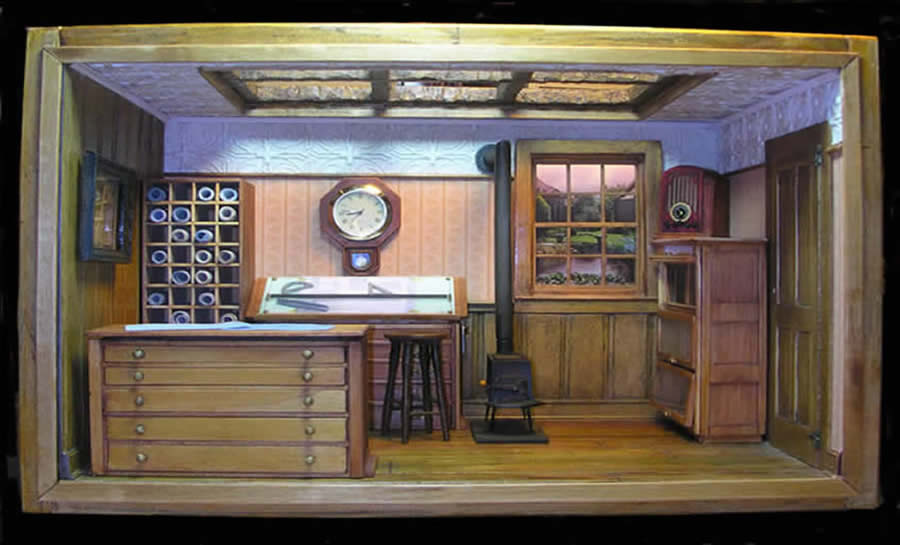 The Contractors Office
Just imagine the work that was done here, building a railroad or bridge or tunnel through a mountain! Features a working clock, sliding door bookcase, real blueprints. lite outside scenic hand hewn beamed ceiling and many other neat things. The case is an antiqued pine box with dovetail corners and aged finish.
12" x 9" x 7"
As shown $2,800 Click to order Box alone (no furniture) $650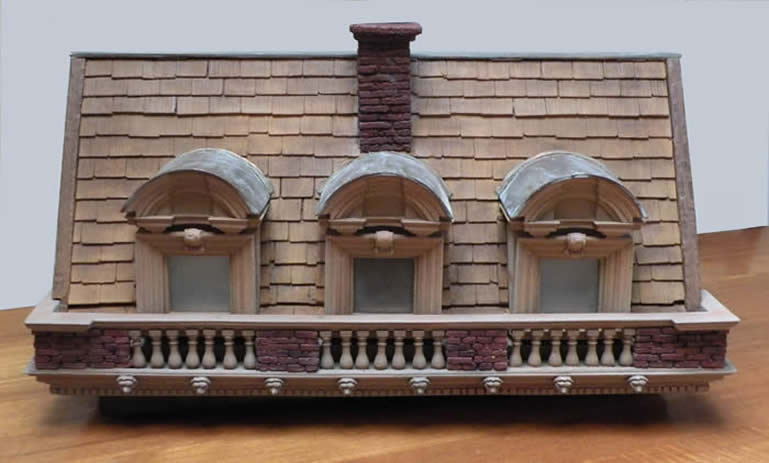 Grandma's Attic Room Box
22" x 12-1/2" x 13-1/2"
$1,425 Finished as shown
Click here for more views and information
Shaker Room Vignette Room Box
12" x 8" x 3" deep (yes, only 3" deep)
As shown - $800
  Country Kitchen Room Box
12" x 9" x 7" deep
This room box has also been used as a dentists office,
construction cabin and lawyers office.
$650
2 variations on a classic Country Kitchen Room Box
Finished box with dovetail joinery
and waxed exterior, plank flooring, door, window and wainscot,
and beamed open ceiling. Furnishings not included
1896 Pattern Shop with Pedal Tools Room Box
As shown - $3,000
Without Tools - $800
Modern Wood Shop Room Box
As shown - $1,900
Without Tools - $800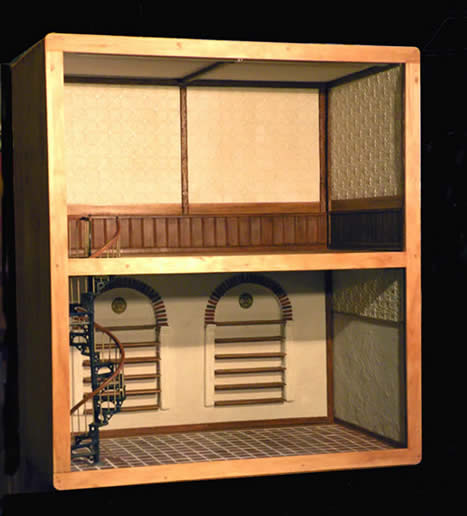 Just a few of many custom room boxes designed to meet the specific needs of individual
collectors and museums. Contact Ken with inquires for your special dreams or needs.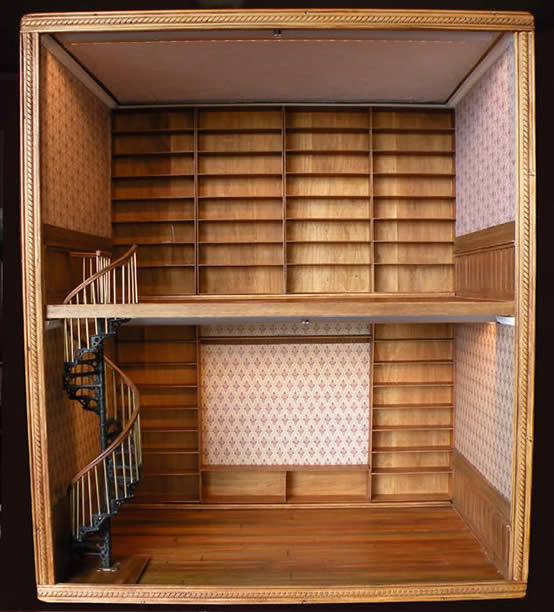 For Room Box Ordering Inquiries